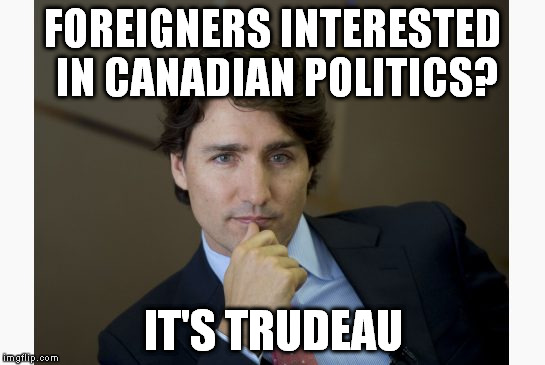 Congratulations to Trudeau for achieving something no other PM in history has managed: Make people give half a flying fudge about a Canadian cabinet! I was shocked when my French and German friends engaged me in discussions on Canadian politics.
We justify our preferences ex post
Most interestingly, the reactions – both national and global – to the new cabinet appointments demonstrate how we create narratives to suit our own needs and beliefs. We are all guilty of inconsistency and double standards; it's just that the more intelligent among us will deny it and try to explain it away.
The newly minted Minister of National Defence did three tours in Afghanistan and one in Bosnia, is a decorated Lt.-Col. and led a Canadian Army regiment. He's being called the "badass" defence minister. He's getting a lot of love on social media for being highly qualified. As someone who's been in combat, he will do a good job. That's the consensus.
So the message seems to be: Canadians want portfolios to go to MPs with knowledge, expertise and experience in that area.
Right?
There are some ministers who are not that knowledgable on their issues. The Minister of Environment and Climate Change, for example, has no science background. The Minister of Democratic Institutions has no expertise in that area. Ditto for the Minister of Natural Resources. The question becomes whether we want a doctor to be Minister of Health and a scientist to be Minister of Science etc. or whether minister-ing skills are transferable such that it's okay to appoint a former Minister of National Defence and Minister of Veterans Affairs as the new Minister of Immigration, Refugees and Citizenship.
Expertise is great, but what about political skills? In my opinion, ministers should listen to the experts and opinions and then make a judgment call on the policy decision. They need to be brokers. Otherwise we'd have a technocracy.
In praising the new defence minister for having worked in the field he now governs, are we, as a result, questioning the qualifications of those who don't have the technical knowledge of their files? Or can we say that either way is good?
Another case of inconsistent narrative formation is reaction to the appointment of the Minister of Oceans, Fisheries and Canadian Coast Guard. Many Canadians – especially First Nations – are thrilled that the minister is an indigenous person, presumably with the expectation that he will be more sensitive to indigenous rights and concerns as a result. However, recall that the incumbent MP he unseated was also Inuk, and that definitely didn't mean that respect for life and the natural environment featured in her decisions (or rather, her execution of the prime minister's will) while she served as environment minister.
We just want to believe that the new cabinet members are good choices, so we come up with plausible reasons. And after a decade of darkness and cynicism, I understand why we want to nurture any little spark we see so that it can become a bright warm flame. As someone put it, "I am so hopeful. What a strange feeling after all these years."
Dion is everywhere
One strange emerging trend is Stephane Dion's ubiquity in the media. As Minister of Foreign Affairs, a veteran MP and almost-PM, his is the most well-known name after Trudeau's in the Liberal caucus. He's been quoted in media stories ranging from electoral reform to the UN climate change conference and the Keystone XL pipeline nixing. Aren't those the files of the Min. of Democratic Institutions, Min. of Environment and Climate Change, and Min. of Natural Resources respectively? None of these ministers were quoted in the stories that quoted Dion. To be fair, both the UN climate change conference and Obama's KXL decision are international affairs, and on that ground would fall within the purview of Dion. But Foreign Affairs is definitely not the ministry to lead these issues.
Climate change portfolio
This honeymoon period with the new cabinet is almost over for me. I'm tired of the Liberals' continuing inaction on climate change.
Canada will not present any emissions reduction target in the upcoming UN climate change negotiations in Paris, according to Minister of Environment and Climate Change Catherine McKenna. Instead, she will discuss with the provinces and set a target within 90 days of Paris. I'm not buying the excuse that they can't come up with a target in time – the Liberals have had years to think about this and still have no concrete plan – but anyway just hope that the eventual target will be more ambitious than what the Conservatives set. McKenna will consider the existing target set by the Conservatives back in May as "the floor for action." I'm hoping it's more like the basement.
'To bind or not to bind' is already the question highlighting rifts between e.g. France and the US approach to a global agreement in Paris. Trudeau will have a tough time convincing France and Germany that Canada is back at the goodwill table, sleeves rolled, if he blocks their attempts to make the final agreement binding.
At least the PM's mandate to McKenna mentions"the economic cost and catastrophic impact that a greater-than-two-degree increase in average global temperatures would represent."
Usually, target setting is easy but concrete steps to hit that target are hard. But in the case of Canadian greenhouse gas emissions, a good starting point would definitely be regulating emissions in the oil and gas industry. Frustratingly, the Liberal government will not rule out tar sands expansion. In fact, it has prioritised getting Canadian 'natural resources' – of which Athabasca bitumen is one – to market. Paris will be little more than an expensive photo-op for regional and cross-partisan friendship if Canada can't commit to cutting emissions in the one industry where it can have the biggest impact.
McKenna should talk to her colleague Minister of Science (IPCC) Kirsty Duncan, who was on the IPCC. And her Chief of Staff Marlo Raynolds, former senior advisor at Pembina Institute and strong renewable energy supporter.
On other environmental issues: Trudeau has mandated the transport minister to impose a moratorium on oil tanker traffic on BC's northern coast. The Northern Gateway pipeline is officially dead. Woohoo!